FindFace- Face Recognition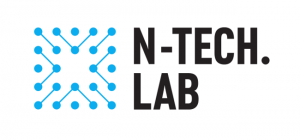 FindFace – New Generation Face Recognition
Face Recognition Revolution: Faces to track; Known criminals and suspects; Investigations; Missing children and elders; Crowds management and analytics.
Existing Technologies: Not accurate enough: too many false positives; Too slow: blacklist size is limited; Require expensive hardware.
FindFace New Generation Neural Network: Very accurate – even more accurate than a human; Very fast – searches among billion photos in less than half second.

FindFace for security
World's Best Accuracy: 95% rank-10 probability among 10K photos; 88% rank-10 probability among 1M photos; 99% verification accuracy.
World's Best Performance: Half-second search time for 1 billion photos; Unique index performs very fast search while maintaining the highest accuracy; The index needs just 20 GB for 500 million photos.
MegaFace Challenge Winner: First place among 90+ competitors, beating even Google; First benchmark to evaluate large-scale face recognition solutions; Largest real-world photo set with different poses, lighting, obstructions, etc.
Proven by FindFace.ru: A web app where everyone can upload a photo to find a person's profile on the vk.com network; 250 million photos of 100 million people; 50 searches per second on five Amazon servers.
Security Use
Mobile software for police and transport police officers
Fixed surveillance cameras integrated into the urban landscape
Cameras in transport infrastructure facilities (subway, airports, railway stations)
Cameras for government establishments, police departments, sensitive sites, etc
Face detection and identification in a video stream: Including surveillance CCTV cameras in public spaces
Restricted site access and database search: E.g. for fans blacklisted from a stadium
Personal identity verification: Including entrance facilities and mobile police officers
Monitoring movement of specific people or crowds at infrastructure facilities and in the city
High accuracy
Identification – Database 10.000 – Accuracy 93%
Verification – Comparison 1:1 – Accuracy more than 99%
Sustainability to appearance changes
Face Vegetation / Glasses / Getting old / Occlusions / Head turns / Emotions
Performance and scalability
Database Search: 2 million photos – 0,2 sec / 250 million photos – 0,3 sec / 1 billion photos – 0,5 sec Feature vector size is less than 1 KB. 50 searches per second on five Amazon servers for 250 million photos dataset.
Gender, age and emotions recognition
Emotions – Recognizing of the primary and the secondary emotion among 7 basic and 50 side emotions. The EmotioNet Challenge 2017 Winner. Age – Recognizing of the age within five years with 95% accuracy. Gender – Recognizing of the gender with 95% accuracy.
You don't need to upgrade hardware
High recognition accuracy even on low-quality images and resolutions (from street and panoramic CCTV cameras, low-resolution webcams, etc.); It is possible to integrate with the installed systems of photo and video recording.
Marketing and analytics
General client flow to store
Detection of specific client group
Obtaining data about the specific client as only he enters the store
Using the client data by a shop assistant
Targeted offline advertisement
Heat maps by demographic categories
Standart routes by demographic categories
Security and personnel management
Be aware of shoplifters
Prevention of the alcohol and tobacco sales to minors
Employees access control in store areas
Worktime control
The quality of service
Nps calculation
The quality of the service at cashier's desk
Loyalty program
Analysis of promos
FindFace – Enterprise Server SDK
The FindFace SDK is a C library that provides access to the cutting-edge face recognition technology based on neural networks. The SDK allows you to quickly and accurately solve the 3 key tasks of face recognition:
Verification: It takes ~ 75 ns to compare 2 biometric samples and estimate the probability of their belonging to the same person.
Liveness check: Distinguish a live face in front of a camera from a photo on paper or mobile device screen.
Face attributes extraction: Recognize age, gender, emotions, glasses, beard, and other attributes.
Face detection: Finds face fragments in an image and returns a bounding box and control points (eyes, nose, corners of the mouth) for each fragment.
Biometric sample extraction: 500 ms is the time needed to extract a face biometric sample and save it in a temporary binary format. The sample can be later saved to a database and used for face verification.
Advantages
Algorithm accuracy and speed
Ability to work online/offline
Neural networks
High-speed calculations
Liveness
Multithreading support
Friendly C/C++ code
Face features recognition
GPU
Typical cases
E-gate
Access control
Authentication
Wearables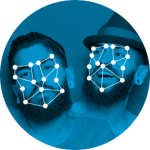 Face Verification
The best verification algorithm in the world, according to the latest independent testing of face recognition engines.
Winner of the Intelligence Advanced Research Projects Activity (IARPA) Face Recognition Prize Challenge (FRPC). See the report below these lines and a detailed report on nist.gov.
NtechLab's face recognition technology showed the best performance on sophisticated datasets – "wild" and "child" – among all participants for large-scale verification, at the recent Face Recognition Vendor Test, conducted by the National Institute of Standards and Technology (NIST).
Face Identification
The
IARPA Face Recognition Prize Challenge
considered
NtechLab
to have the
world's fastest algorithm
. It is the world's only algorithm with sub-linear search time at the moment.
It works on planetary scale datasets with billions of faces, where it shows the best accuracy and speed performance:
Search time on huge datasets
250 million faces in dataset – search time is less than 0.2 sec.
500 million faces – less than 0.3 sec.
1 billion faces – less than 0.5 sec.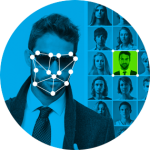 Face Detection
The NtechLab face detection algorithm is distinguished by revolutionary speed and accuracy. In a single shot it can process an unlimited number of faces. It is therefore, perfectly tailored for mass events. It is resistant to lighting conditions, posture, head poses and tilts.
Age & Gender
It detects a person's age with 95% accuracy in 5 years' intervals.
It detects a person's gender with 99% accuracy.
Targeted offline advertisement, access control and data enrichment are only some of the use cases and markets this age and gender detection algorithm can be adopted for.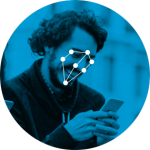 Emotions
Detects 7 primary and 50 compound emotions of a person. Captures and interprets emotional data to deliver actionable insights.
Algorithm's quality is proven by 1st place at EmotioNet Challenge 2017.