The Microsoft Windows operating systems require all users to log on to the computer with a valid account to access local and network resources. A user is authenticated through implementing a logon process. After a user is authenticated, authorization and access control technologies further protect resources by determining if the authenticated user is authorized to access a resource. DigitalPersona® Workstation is compatible with Microsoft Windows 7 and up (32bit and 64bit) offering advanced multi-factor authentication for enterprises and especially remote users. Balancing security and usability, the solution employs one of the widest arrays of authentication factors in the industry including contactless (RFID) cards and biometrics.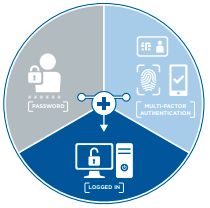 Benefits
DP Workstation enabled with our desktop readers have the following benefits:
– Human-proofed end-to-end solution
– Strong authentication beyond passwords
– Increased security with multi-factor authentication
– Supports broad selection of authentication form factors
– Fast deployment and easy integration with your existing IT infrastructure
We believe that by combining a selected group of Omnikey Readers and DigitalPersona Fingerprint Readers with DigitalPersona Workstation will create traction in use cases where customer is looking to secure end points
– Ability to provide a turnkey solution vs just hardware components
– Possibility to upsell full DigitalPersona solution (including backend) with these customers in the future.

Fingerprint only (i.e. DigitalPersona 4500 readers)

RFID or Contact cards (i.e. OMNIKEY 5022 + Crescendo cards)

Any combination of factors listed above for MFA, etc.
Login with Contactless Card
Enable MFA using Finger Card
MFA with fingerprint and password
MFA to Unlock Using FP and Password